This is a gallery on most of the items I've had stock of at one point.
Please note that I may no longer have some of these items on stock. To what items I still have in stock and what prices I'm selling them at, check User blog:Undead.exe/Cosplay (by price).
Store Cosplay
New Year's 2015 (Melancholy of the Shephard)



Christmas 2014 (Two witches and the Night of Shooting Stars)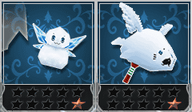 Pumpkin Carnival Series (Oct 2014)

Spectre Series (Aug 2014)
Star Stone Series (June 2014)


Fujin/Raijin Series (April 2014)

Miraculous Sakura Series (Mar 2014)

Pirate Series (August 2013)


Non-Ranked Series
[Head]
Gnaw Moon Peach <peach in mouth>
Snow Puyon Orange/Green <puyons with green Xmas hats>
Lotus Fairy Purple/Blue
[R-Hand]
Big Lotus Leaf <lilypad on a stalk>
Ad blocker interference detected!
Wikia is a free-to-use site that makes money from advertising. We have a modified experience for viewers using ad blockers

Wikia is not accessible if you've made further modifications. Remove the custom ad blocker rule(s) and the page will load as expected.