A demonstration of a tank/speed-cast build for Wizard class on Elemental Knights Online: the WORLD.
Skills are, respectively: Class Burst Skill, Firebolt lv. 1, Thunder Blast lv. 1, Frost Strike lv. 1, Drain lv. 1 (Warlock Transfer Skill), Knock (Filler/Feint Attack Skill).
I apologize for the poor quality.
In this demonstration, I shocased each elemental skill, each doing a different amount of damage. Usually, damage increases on the top row as you move across it. This method of battle doesn't necessarily kill them quick as a couple other classes, but it uses very little MP, especially for how much Wizards normally drain. It also fills your burst very quickly, and keeps you well stocked on HP the entire battle, without any problem. Wizards are known for their low HP and quick MP loss, but they can deliver heavy amounts of damage very quickly overall.
I use this skill set when playing solo, and when my tank needs an extra hand against bosses.  I can also easily switch to my second skill bar to use poison and buff moves, if needed. (which will be demonstrated in my next video.)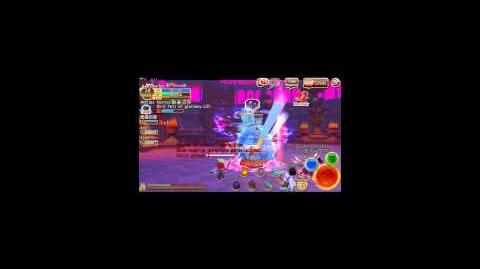 This Skill build is the primary set I use when in a party, especially facing tough bosses like Dark Kings. It uses a decent amount of MP when compared to my Tank/Speed build, but it does intense damage, and gives my party an advantage when we're in a tough spot. This video is an example of how I might fight using this build, but of course, I showcase each skill as best I can in a similar way I'd really use them.
The skills are, respectively: Firebolt lv. 2, Thunder Blast lv. 2, Frost Strike lv. 2, Poison lv. 2, Poison lv. 1, Pole Crush (Lancer Transfer Skill, temporary), Guiding Light (Buff), Fleeze Shock (Wiz Hidden Skill.) I also frequently switch back to the first page of my skills to use my burst skill, along with Drain lv. 1, which were showcased in my previous video.

I apologize that the video is so small, but I'd like to keep it such, to hopefully blur out the names of the people in my party during this video, because I did not ask for their recording permission before starting. This should be enough to showcase the skills properly, however.
Ad blocker interference detected!
Wikia is a free-to-use site that makes money from advertising. We have a modified experience for viewers using ad blockers

Wikia is not accessible if you've made further modifications. Remove the custom ad blocker rule(s) and the page will load as expected.